Luis Ramirez Hate Crime Petition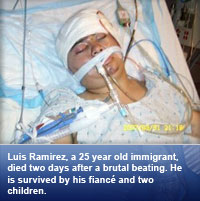 It is time for the United States Department of Justice to intervene and file federal hate crime charges against those responsible for the brutal murder of Luis Ramirez in Shenandoah, Pennsylvania. The Justice Department must send a strong message that violence targeting Latinos will not be tolerated and will be prosecuted to the full extent of the law.
We need you, and so does Luis Ramirez's family. Will you join us in making sure the DOJ brings justice to Shenandoah, Pennsylvania?
Sign the petition below and urge the DOJ to bring hate crime charges against his assailants today.
Every petition will be hand delivered to the DOJ by a MALDEF representative.
Co-Sponsors