Eva Longoria Parker (Community Service Award)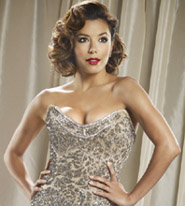 Copyright © American Broadcasting Companies, Inc.
The youngest of four sisters, Eva Longoria Parker grew up on her family's ranch outside of Corpus Christi, Texas. After attending Texas A&M-Kingsville, where she received her Bachelor of Science in kinesiology, she entered a talent contest that brought her to Los Angeles. There, she won the role of Isabella on the popular series "The Young and the Restless," earning an ALMA Award in 2002 for outstanding actress in a daytime drama. Longoria Parker's success was followed by a role as "Detective Gloria Duran" on Dick Wolf's "L.A. Dragnet."
Longoria Parker stars as Gabrielle Solis on the ABC-megahit "Desperate Housewives." She has won a Screen Actors Guild Award and is nominated for a Golden Globe. The award-winning show has more than 30 million viewers in the U.S. and is televised in 208 countries. Longoria Parker has received numerous awards: People's Choice Award-winner for favorite female TV star, Bambi Award-winner, Teen choice Award-winner, TV Guide's "TV's Sexiest Star" in 2009, People's "50 Most Beautiful People" in 2005, People's "100 Most Beautiful People" in 2006 and 2007, People En Español' s "50 Mas Bellos" in 2009, Rolling Stone's "People of the Year," ranked two years in a row in the prestigious FORBES Celebrity 100, and TWO years in a row the "#1 Hottest Woman in the World" on Maxim's annual 'Hot 100" list.
The actress has also been involved in multiple films. She lends her voice to the upcoming Lionsgate animated film FOODFIGHT!, where she plays "Lady X," the smart and conniving Brand X product icon who uses her beauty as a means to take over the world, slated for release this year. She also starred in New Line/Gold Circle Films' OVER HER DEAD BODY, Fox/Regency/Further Films' THE SENTINEL, the indie film HARSH TIMES written and directed by David Ayer, and LOWER LEARNING by Director Mark Lafferty.
Producer:
This year marked the fourth consecutive year that Longoria Parker both hosted and executive produced the National Council of La Raza ALMA Awards on ABC, which honors Latino artistic achievement in the television, film, and music industry. With her help, the ALMA Awards has earned its highest ratings since their inception and she continues to strive to make each year better than the next.
On the producing front, Longoria Parker created UnbeliEVAble Entertainment, which has been developing TV shows and films. Longoria Parker also just optioned the rights to the novel "SixtyFive Roses" by Heather Summerhayes Cariou; a beautiful story about a sister's love for a sibling with cystic fibrosis. She is also in the process of optioning the rights to two chick-lit books that will be developed by her production company as feature films.
In addition, Longoria Parker is working as an executive producer in collaboration with Academy Award nominated Shine Global, a non-profit film production company dedicated to the elimination of child exploitation and abuse through the production of films that raise social awareness and effects political change, for the documentary film HARVEST. The film focuses on the plight of the estimated 500,000 child farm workers whose tireless efforts help feed America. Now in early development, HARVEST will be shot during the upcoming 2009 harvest season and is expected to be completed in early 2010.
Charity:
PADRES Contra El Cancer - Longoria Parker is dedicated to philanthropic missions that make a difference in the Latino community. She serves as national spokesperson for PADRES Contra El Cancer (Parents Against Cancer), a nonprofit group committed to improving the quality of life for Latino children with cancer. PADRES is the only Latino program in the United States that is focused on addressing the needs of the entire family. It helps Latinos who have children with cancer by providing them with educational, financial, and language resources. She has personally raised over $4 million for the organization as chair of the PADRES' annual gala and other fundraising campaigns.
Eva's Heroes - Longoria Parker works with the Special Olympics and founded the non-profit "Eva's Heroes," which provides an after school program with an inclusive setting for individuals with developmental disabilities to interact, play, and grow with their typically developing peers, and also provides services to families such as counseling, parenting workshops, and sibling support groups. This September marked Eva's Heroes third annual "Casino Night", which raised hundreds of thousands of dollars.
Make-A-Wish France - Together with her husband, Longoria Parker has taken an active role in Make-A-Wish France, an organization that grants wishes to children with life-threatening medical conditions. Most recently the couple hosted and organized the "Par Coeur Gala" in Paris that proved to be an integral fundraiser for the charity by permitting the association to continuously keep on granting wishes of a lifetime.
Whether she is volunteering during presidential campaigns, engaging Latino voters, or working with one of her charities, Longoria proves that ambition really does go a long way.